The resort town of Tõrva has already found a place in the summer plans of many families, but the region is getting more and more popular also as a pleasant winter vacation destination. With illuminated cross-country trails and Estonia's best mountain skiing and snowmobile centers nearby, there are plenty of options for a sporty winter holiday. After an eventful day, choose one of the nearby spa centers for some recovery and relaxation.
A gigantic sand sculpture that stands strong even in winter
In Estonia and also across country borders, Tõrva has become famous for its annual sand sculptures. This year, media was filled with photos of the five-meter sand sculpture built on the central square of Tõrva, which depicts Ukrainian President Volodymyr Zelenskyy as part of the world-famous New York Statue of Liberty. In support of Ukraine, a roof and a protective layer have been added to the sand sculpture to stand strong through the winter! In addition to Zelenskyy's sand sculpture, an entire Freedom Park was created with a large-scale photo exhibition and eye-catching sand art.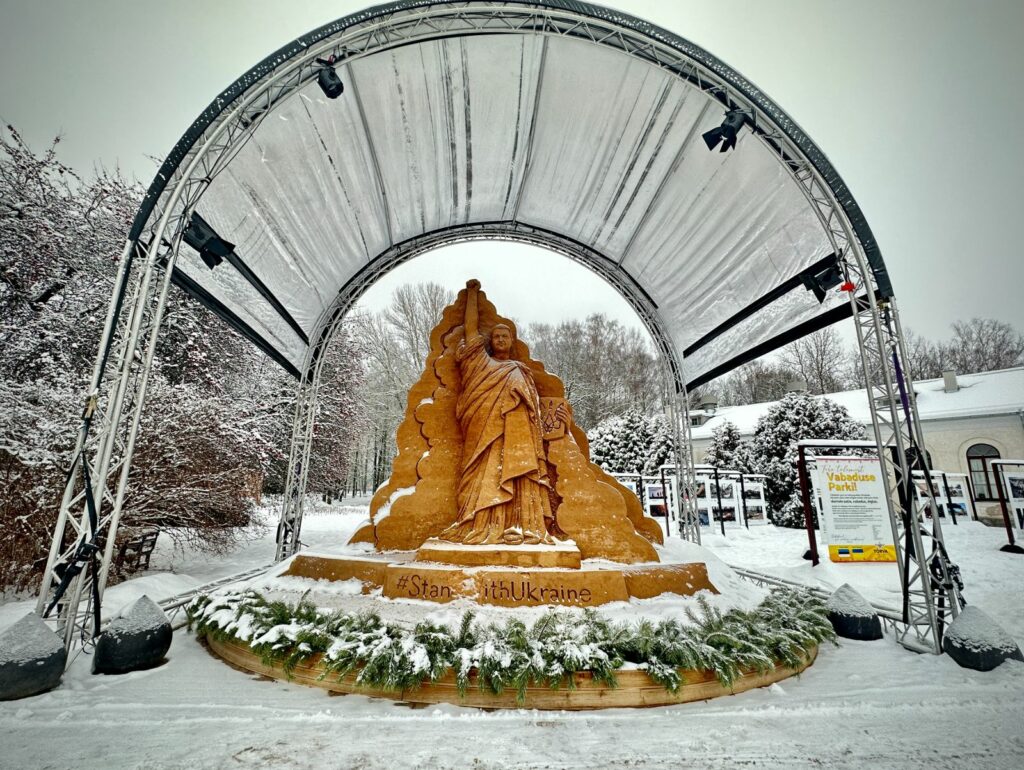 Freedom Park received another addition at the beginning of winter – a tank of sand that was defeated in battle and being pulled by a Ukrainian tractor was transformed into a children's slide and climbing hill. This winter, among other events, the world's biggest drum set will arrive to the central square. Tõrva parish is part of the European Capital of Culture, Tartu 2024, program which revives the legendary and also Estonia's largest open-air spectacle of fire, water and music, Tõrva Loits (The Spell of Tõrva). In cooperation with drum virtuoso Reigo Ahven, the world's largest drum set has been built and can be seen and tried from mid-December.
Winter joys in the beautiful nature of Tõrva
Tõrva is a real resort town both in summer and winter. Tõrva's park forest has 11.1 km of beautiful trails for walking, running and skiing. Skiers may enjoy tracks in three lengths – 1.0 km, 1.4 km and 6.6 km – of which 2.5 km are illuminated which makes it possible to train even when it gets dark outside.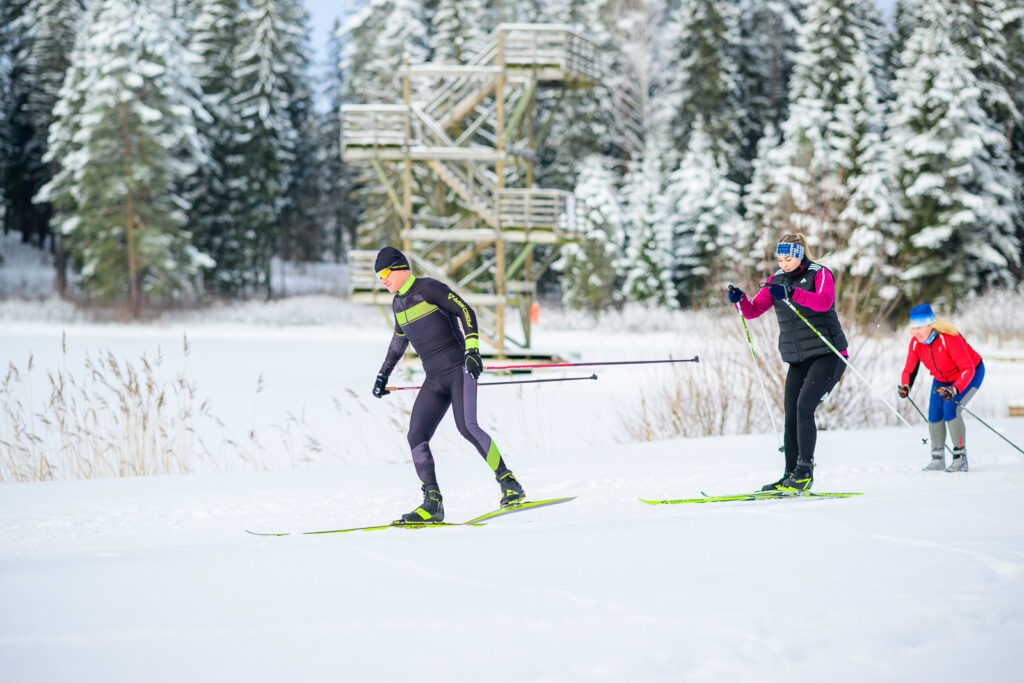 Kuutsemäe Holiday Center is only a 25-minute drive from Tõrva and is undoubtedly the most appealing mountain sports center in Estonia.
Tõrva parish is known for its beautiful nature and there are several hiking trails in the surrounding area that are accessible with snowshoes in winter. Fascinating trails meander along the river valley around the town of Tõrva. As another point of interest, Rubina bog is one of the oldest bogs in Estonia and a guided snowshoe hike there with friends or family is a true gem of nature tourism. As a new experience, it's possible to go on a skating tour in the bog.
Did you know that just a few kilometers from Tõrva in the village of Roobe lies a snowmobile center with one of the longest and most exciting tracks in Estonia? If you're looking for something extreme, but also want to feel safe, try snowmobiling. Snow tracks in the center are well planned and maintained. A professional team will take care of you on the tracks and all necessary equipment will be provided. Training takes place on site and instructors accompany the trip. Previous experience and driving skills are not necessary. Along the trip, you will not only enjoy the ride, but also the beautiful nature of Southern Estonia!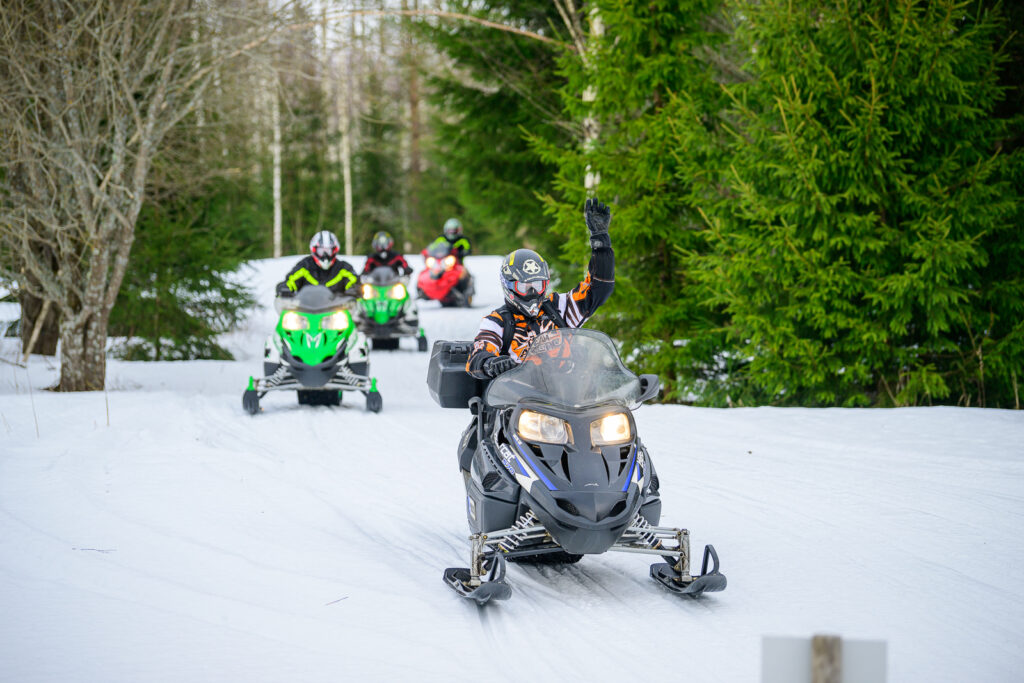 Relax in one of the water and sauna centers
Estonia's newest spa center – Tõrva Veemõnula – welcomes you with a 25-meter pool with three lanes, four different saunas, a large children's and fun pool, two hot tubs, a relaxation area and a sun terrace. Those who wish may exercise and those who wish may enjoy saunas and just relax.
A new hotel opened by the water center last summer which makes it possible to enjoy the charming resort town for multiple days.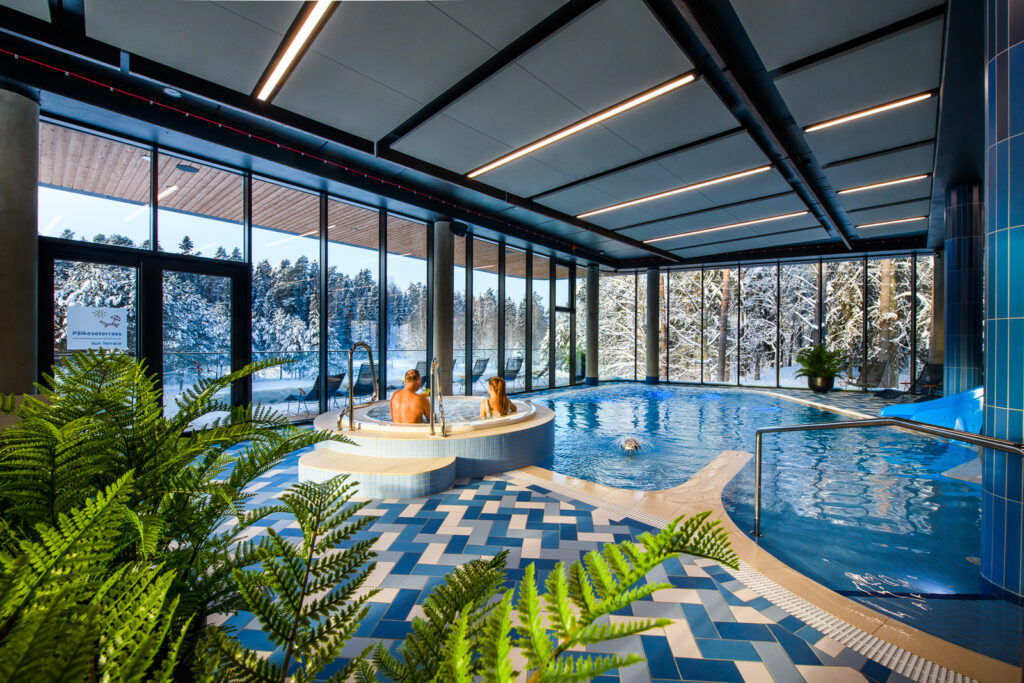 Taagepera castle complex is also located in Tõrva parish and is home for Wagenküll castle spa, where one can bathe under the arches of the historical building. Wagenküll spa and sauna center has a pleasantly cosy atmosphere, but is at the same time elegant and luxurious. Soothing sounds and pleasant light will have a relaxing effect on all your senses! The castle's saunas with different temperatures and humidity levels and cosy water springs are definitely worth experiencing. The place also has several private relaxation and rest areas that help to ward off fatigue and stress.